仝Select Product Menu々
TAITEXMA Affiche
  Welcome to TAITEXMA official website!
TAITEXMA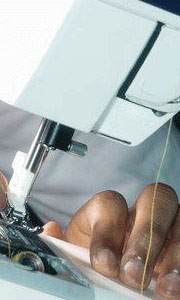 >> Single Jersey
[Product Name]TXS Single Jersey Circular Knitting Mc
[Product Attribute]
MODEL: TXS-3F   Cylinder diameter 15"--44"  Needle Pitch: 16-32G Yarn feeder: 44F-132F
MODEL: TXS-4F   Cylinder diameter 15"--44"  Needle Pitch: 16-32G Yarn feeder: 60F-176F
MODEL: TXS-FL   Cylinder diameter 30"--40"  Needle Pitch: 16-32G Yarn feeder: 90F-120F
[Products Introduce]
************************************************************


News


************************************************************TXS features in close tracks and broad needle butt design on the cams of knit, tuck and miss. A cam adjustment work on a double slant surface principle allows the cam adjustment and locking quickly and accurately.
A central stitch adjustment system is designed for operator makes quick adjustment and produces the fabric in different density(loop length). We also creat a special cam system for feeding the LYCRA. Operator can easily knit different kinds of high quality Single Jersey fabric with LYCRA on the machine.
To save time and reduce the trouble loading the parts, we have successfully designed a new system for replacement cylinder in a simple way. E-catalogue
Yarn material: Pure cotton,synthetic,yarn synthetic silk, Blended fabrics,Legitimate silk.
Learn about mattress application
[Product Name]TXP Changeable Diameter Knitting Machine
[Product Attribute]
SMALL DIAMETER(2 INCHES)
18"---20"
20"---22"
22"---24"
24"---26"
26"---28"
28"---30"
BIG DIAMETER(4 INCHES)
30"---34"
32"---34"
34"---38"
36"---40"
38"---42"*Single Jersey Circular Knitting Machine can be transformed into Fleece Machine if only with an extra Cams for Fleece:
30"*90F---30"*(3*30F)
32"*96F---32"*(3*32F)
[Products Introduce]
TXP is our patent product. All specification conforms with European standard (precision, durability, high-speed, low-temperature).
eg. 34"*102F single jersey knitting machine can be transformed quickly into 30"*90F single jersey knitting machine, if only buying an extra 30"cylinder. This feature makes the use of knitting machine increase further, along with the reasonable reduction of the purchasing cost and investor returns the cost fast.
FRONTAD << >> NEXT