仝Select Product Menu々
TAITEXMA Affiche
  Welcome to TAITEXMA official website!
TAITEXMA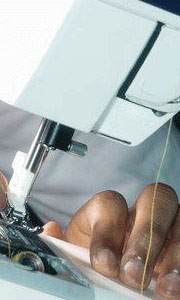 >> TH260/TR260
[Product Name]TH230/TR230 Home Knitting Machine
[Product Attribute]
1.Model: TH-230 main body; TR-230 Ribbing Attachment
2.Gauge: 9mm(2.8G)
3.Number of needles: 110 pcs
3.Type: Plain Knitting Model
[Products Introduce]
Easy operation and fast knitting speed makes user finish the panel quickly. Suitable for home-based basic knitter.
[Product Name]TH260L/TR260L EXTENDED-NEEDLE-BED KNITTING MC
[Product Attribute]
1.Gauge: 9mm(2.8G)
2.Number of needle: 150pcs
3.Capability: SKIP STITCH, MULTI COLOUR SKIP STITCH, TUCK STITCH, MULTI-COLOR TUCK STITCH, WEAVING PATTERN, WOVEN MOTIF PATTERN, FAIRSLE(JACQUARD) PATTERN, FAIRSLE MOTIF PATTERN, DOUBLE LENGTH PATTERN AND FINE LACE PATTERN, PLATING, CHANGE OF MAIN YARN AND PLATING YARN, PLATED TUCK STITCH PATTERN
4.Option: TH500 punch bear, TH2600 INTARSIA knitting head, TH900 four-color changer
5.Counterpart ribber model: TR260L ribbing attachment
[Products Introduce]
Now we can make larger size of knitting!
Easy operation and fast knititng speed makes user finish the panel shiftly. Enclosed standard 16 patterns card and their knitting instruction in the manual. Features in easy operation and 24needles range needle-to-needle selection suitable for home-based knitter. E-catalogue
[Product Name]TR260 Ribbing Attachment
[Product Attribute]
Model: TR260
Gauge: 9mm(2.8G)
Type: Auxiliary Ribbing Attachment
[Products Introduce]
Double Jersey with Jacuqard and rib
[Product Name]TH260 PUNCH CARD KNITTING MACHINE
[Product Attribute]
1.Gauge: 9mm(2.8G)
2.Number of needle: 114pcs
3.Needle selection range: 24 needles
4.Capability: SKIP STITCH, MULTI COLOUR SKIP STITCH, TUCK STITCH, MULTI-COLOR TUCK STITCH, WEAVING PATTERN, WOVEN MOTIF PATTERN, FAIRSLE(JACQUARD) PATTERN, FAIRSLE MOTIF PATTERN, DOUBLE LENGTH PATTERN AND FINE LACE PATTERN, PLATING, CHANGE OF MAIN YARN AND PLATING YARN, PLATED TUCK STITCH PATTERN
5.Option: TH500 punch bear, TH2600 INTARSIA knitting head, TH900 four-color changer
6.Counterpart ribber model: TR260 ribbing attachment
[Products Introduce]
Easy operation and fast knititng speed makes user finish the panel shiftly. Enclosed standard 16 patterns card and their knitting instruction in the manual. Features in easy operation and 24needles range needle-to-needle selection suitable for home-based knitter. E-catalogue
FRONTAD << >> NEXT