仝Select Product Menu々
TAITEXMA Affiche
  Welcome to TAITEXMA official website!
TAITEXMA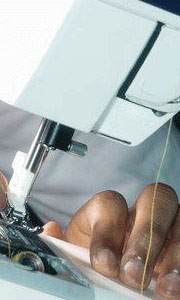 >> TH868/838
[Product Name]TH160/TR160 Home Knitting Machine
[Product Attribute]
1.Model: TH-160 main body; TR-160 Ribbing Attachment
2.Gauge: 6mm(4G)
3.Number of needles: 164 pcs
3.Type: Plain Knitting Model
[Products Introduce]
Easy operation and fast knititng speed makes user finish the panel shiftly. Suitable for home-based basic knitter.
[Product Name]TM-168 Motor Drive Unit
[Product Attribute]
1.Suitable model:BROTHER KH260/KH270/KH868/KH970 SILVER REED SK260/SK280
2.Stop motion: yarn knot, needle collision
3.LCD Control box
4.Adjustable knitting range

[Products Introduce]
TM-168 Electronic motor drive is designed for home knitting machine line. It equips particular micro-computerized controller. It can knit sweater body, sleeve, scarf´ and etc. This device has auto row count, auto stop, semi-auto decrease needle, multi-yarn change, auto stop for yarn knot, needle collision and etc. Depends on different material, knitting width, there are 6 running speeds for your choice. And it will decrease the speed when the carriage turns around. The weakened shock cushions carriage when it turns around. The control box can input various worksheets in one time and the memory has 32 worksheets. When the worksheets in the memory are not sufficient, it can import from external storage card by which there will be 64 worksheets. The rows in execution is controlled by the computer; yarn break and needle collision will activate alarm
The screen has bilingual interface- English and Chinese

[Product Name]TH-868 Punch Card Knitting Machine (Main body)
[Product Attribute]
1.Gauge: 4.5mm(5.6G)
2.Number of needle: 200pcs
3.Weight: 14kg
4.Measurement: 1058x262x105mm
5.Needle selection range: 30 needles
6.Capability: SKIP STITCH, MULTI COLOUR SKIP STITCH, TUCK STITCH, MULTI-COLOR TUCK STITCH, WEAVING PATTERN, WOVEN MOTIF PATTERN, FAIRSLE(JACQUARD) PATTERN, FAIRSLE MOTIF PATTERN, DOUBLE LENGTH PATTERN, LACE PATTERN AND FINE LACE PATTERN, LACE AND FINE LACE MIXED, ISOLATED LACE PATTERN, PLATING, CHANGE OF MAIN YARN AND PLATING YARN, PLATED TUCK STITCH PATTERN
7.Option: TH500 punch bear, TH800 INTARSIA knitting head, TH900 four-color changer
8.Counterpart ribber model: TR850 ribbing attachment; TR838 ribbing attachment
[Products Introduce]
Imported foreign CNC punch machine produces needle bed with strong and durable feature. Easy operation and fast knititng speed makes user finish the panel shiftly. Enclosed standard 20 patterns card and their knitting instruction in the manual. Features in easy operation and 24needles range needle-to-needle selection suitable for home-based knitter. E-catalogue
[Product Name]TH860L/TR850L EXTENDED-NEEDLE-BED KNITTING MC
[Product Attribute]
1.Gauge: 4.5mm(5.6G)
2.Number of needle: 272pcs
3.Capability: SKIP STITCH, MULTI COLOUR SKIP STITCH, TUCK STITCH, MULTI-COLOR TUCK STITCH, WEAVING PATTERN, WOVEN MOTIF PATTERN, FAIRSLE(JACQUARD) PATTERN, FAIRSLE MOTIF PATTERN, DOUBLE LENGTH PATTERN, LACE PATTERN AND FINE LACE PATTERN, LACE AND FINE LACE MIXED, ISOLATED LACE PATTERN, PLATING, CHANGE OF MAIN YARN AND PLATING YARN, PLATED TUCK STITCH PATTERN
4.Option: TH500 punch bear, TH800 INTARSIA knitting head, TH900 four-color changer
5.Counterpart ribber model: TR850L ribbing attachment; TR850L ribbing attachment
[Products Introduce]
Now we can make larger size of knitting!
Easy operation and fast knititng speed makes user finish the panel shiftly. Enclosed standard 20 patterns card and their knitting instruction in the manual. Features in easy operation and 24needles range needle-to-needle selection suitable for home-based knitter. E-catalogue
[Product Name]TR850 RIBBING ATTACHMENT
[Product Attribute]
Model: TR850
Gauge: 4.5mm (5.6G)
Type: Auxiliary Ribbing Attachment
[Products Introduce]
Double Jersey with JACQUARD and RIB
FRONTAD << >> NEXT